The exhibition of contemporary Japanese art is on till Monday at the NGMA. You should probably go. There is one frightening room with insane videos running simultaneously on all four walls. If you scoot in and out of that the rest is mostly fun. Mistuko Miwa who does oils that replicate large format photography is my favourite.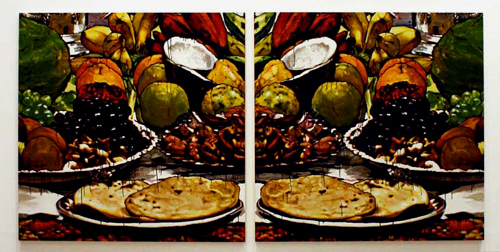 Holy Supper

Tomoaki Ishihara who does huge photographs of himself in front of well known works of art is also fun.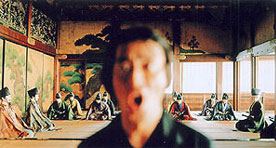 Self-Portrait, Nijo Castle

Look out for the Noritoshi Hirakawa series of women posed demurely in men's loos. I rolled my eyes but you may not.

I was looking at a sweet playful little piece of video art at the exhibition when L the lovely Tastenazi, informed me that some people are now building their houses around video art in their collection. Her description of her favourite, a house with a pool built around a light tree made it sound like it was silent art... unlike the pieces I heard drove their owners crazy (because its insane to have your walls talking to you all the time but whats the point if you are going to switch it off as if it was a toaster?) The actual display of video art, the lavishness or elegance of the showcase, must be the only way in which a collector can set herself apart from anybody with a DVD burner. Proof of ownership is being sold as a perk of course in this crazy new world of art collection but that's just a joke. Here is assume vivid astro focus aka Eli Sudbrack's full room installation from 2003.

Here is a report of how it was sold.


"To reproduce the whole installation, a collector would have to buy one of each element, at a total cost of $150,000. The defining elements—the installation's floor, walls, and ceilings—were in an edition of three. But the five sculptures, priced at $5,000-$15,000, were in an edition of five while the $2,500 decals and $5,000 video were in an edition of 10. Thus, the total list price of products available from the Whitney show was $600,000, minimum."

Of course it was all sold. Most of this gives me a headache to think about. Though I did think it was coolwhen the owners of a Banksy mural put it up for sale and included their house (free) as part of the deal. They prefered that to prospective owners of the house whose first demand was that the mural be painted over before they moved in. Oh you prosaic darlings.