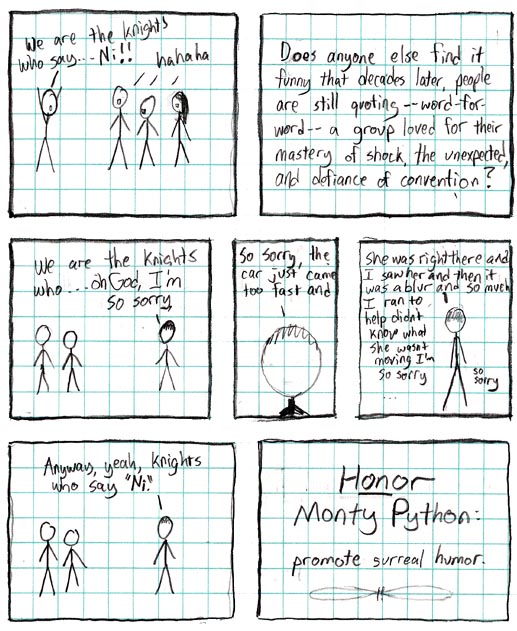 The world ought to be divided into two groups. People who have watched the Monty Python series, who want everyone else to watch it and fall in love  AND people who are sidling out of the room murmuring something about having to call their mothers. No I don't think Monty Python is particularly funny. All these years I had been right to pretend to be deaf to the Python praise of every geek I have ever dated.  I do think Terry Gilliams' animation is still fresh and fascinating.

I should not blame Python fans though. I am quite likely to go into paroxysms of pleasure while quoting reels of dialogue from Sreenivasan's films or from the Cochin Kalabhavan sketches of the late 80s and early 90s. A plague on Malayalee men and their ability to make a girl laugh.

No, the world ought to be divided into two groups. People who think that anything is potentially funny (never mind that you choose not to laugh out of politeness or compassion or a desire to keep your head attached to your body) and people who don't. I have a litmus test for this now. It's called the 'Do you know what happened to my saree in Neeti Bagh last winter?' story.  I fantasise about strangling people who fail the test.