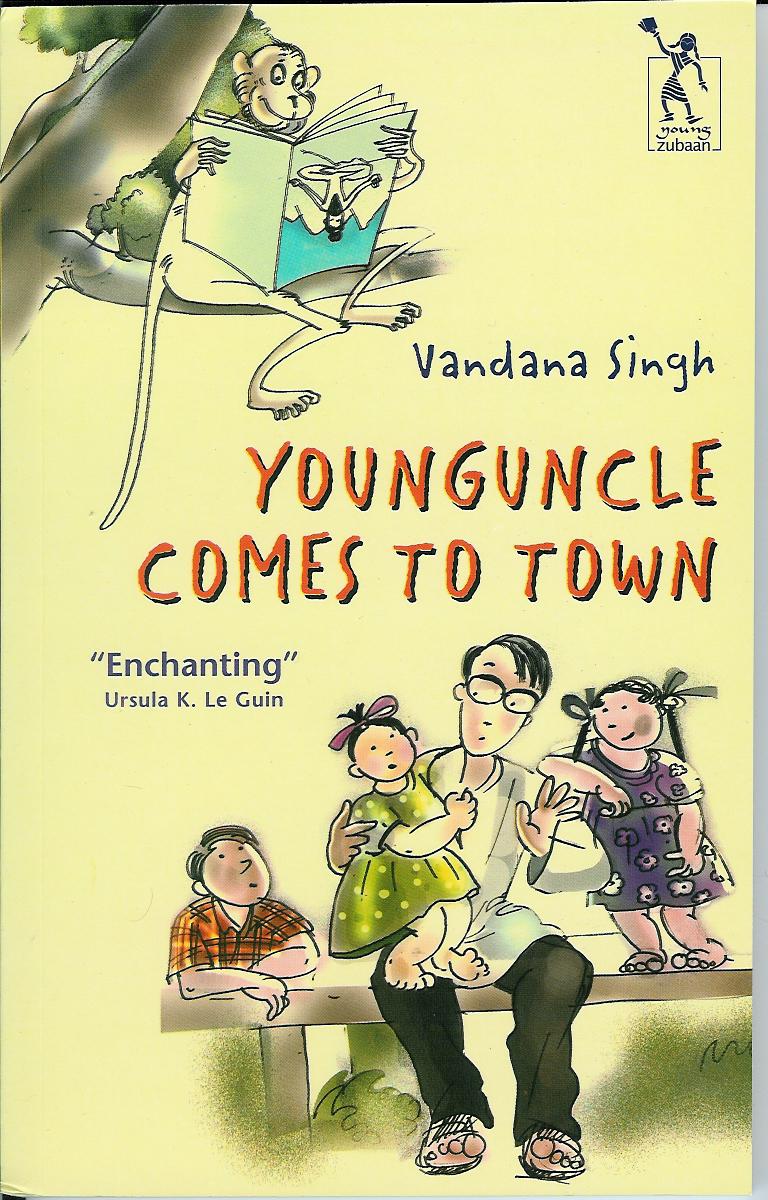 Having touched on my ignorance in an earlier post I don't need to tell my gentle reader that this is matched only by my smugness. She would have connected the dots herself.

One of my pet rants is that there has been no interesting voices in Indian children's literature since the demise of Target. Of late this has been coupled by the not so secret belief that Bottle Imp and I are going to change all that with our Rakshasa book. My delusions of grandeur were encouraged by friends who giggled every time we narrated the story.

However, yesterday hubris had to be kicked under the bed because I had the enormous pleasure of getting my hands on two wonderful books.

Book #1: Younguncle comes to town (Vandana Singh)

I know you are not supposed to be knocked over by authorial blurbs but can you sit there and tell me that you can resist a book which has been called 'Enchanting' by Ursula Le Guin?

The eponymous Younguncle comes out of nowhere to smalltown India and is soon neck-deep in adventures of various kinds. Younguncle is cool and capable of anything while being lanky and mild-mannered.Vandana's confident touch gives the defeat of old-fashioned foes like poachers and evil zamindars a fresh treatment. And she has wonderful new-style villains  such as crass chain-store owners and in-laws who don't have a sense of humour.

Vandana Singh is an Original with a great comic range. Younguncle's philosophical and ambitious infant niece, the sister-in-law who speaks in Capital Letters, the bus driver who drives too fast because his heart has been broken by the girl with the mangoes and the tiger with gourmet taste-buds are all understated and slightly weird. And she has outrageous comic sequences like the monkey in the white shirt which is seen reading the memoirs of a yogi and the bus-load of people screaming "Stop, stop, its the young man from the human race."

Vandana Singh teaches physics in the US and has made a name for herself in the field of speculative fiction. Her adult fiction (The Woman who thought she was a Planet & other stories) will be available in India soon. There is a sequel called Younguncle in the Himalayas which I must now get my hands on.  I will smile pleasantly and avoid telling you what you should do.

Book # 2:  A to Z Problem-solver ( Reena Daruwalla)
Don't let the name fool you. Its pure looniness in alphabetic order. Each letter in the alphabet is followed by most esoteric collection of words and little notes of advice for young people. While Alcohol, Generation Gap, Exams, Sex and Waste is touched upon in a breezy, worldly manner there are also hilarious entries for Balls (...Boys might sometimes need to protect these precious jewels.) Love, Quantum Physics, Terrorism,  Quioxotic, Tshirts, Xerox and Zlotys. It really is more Ambrose Bierce than Miss Manners. If you buy it for your 13 year old cousin she will love you forever but her mother might not invite you home again. But you could always skip the middleman and buy it for yourself.  Zubaan must be saluted for their courage in taking on this book in a market dominated by thin-lipped adults who buy 'general knowledge books' for children.  One distributor lists it under ' Humour/Quotation Books' !